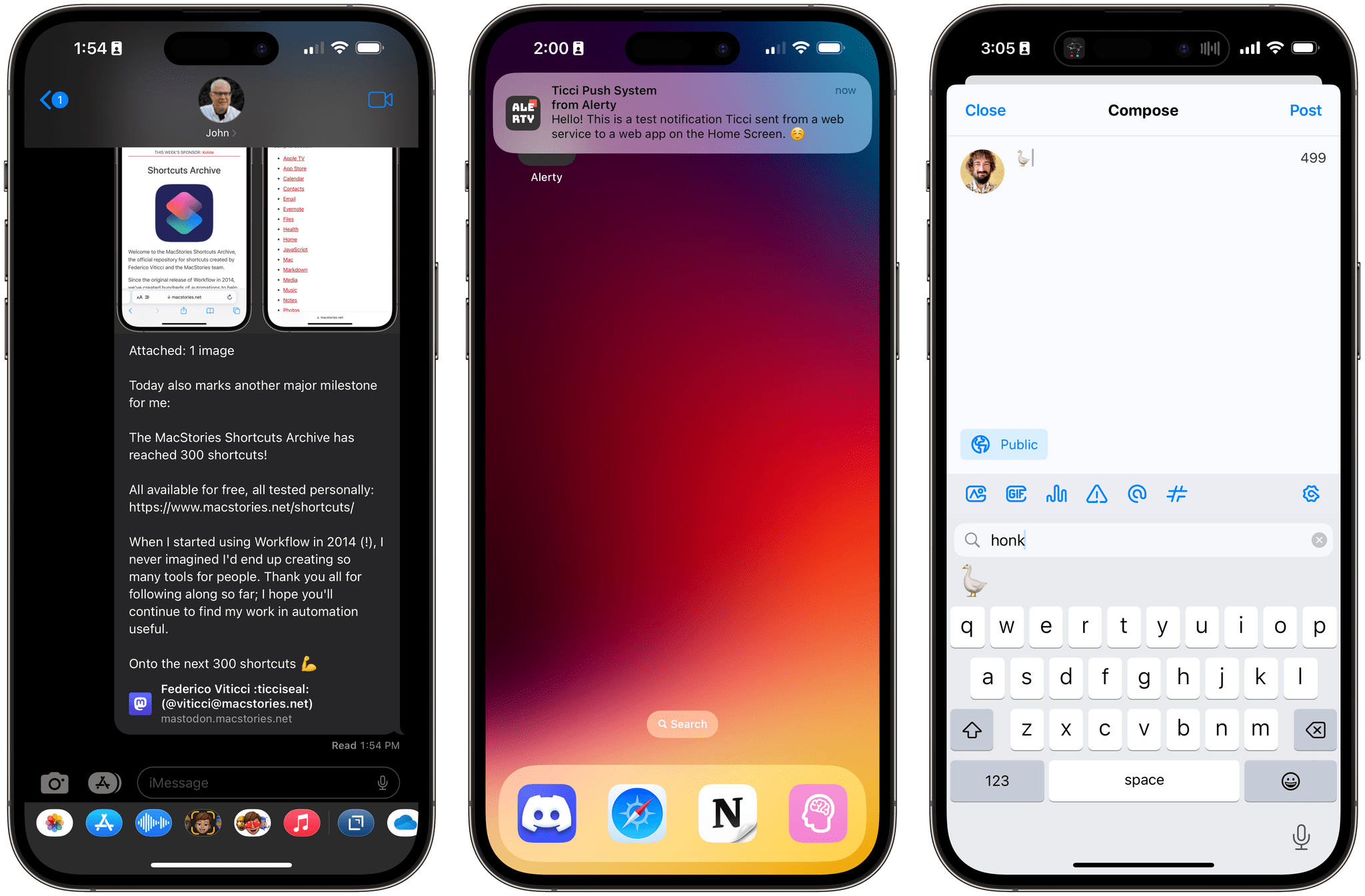 Today, Apple is releasing iOS and iPadOS 16.4, the fourth major updates to the OSes that introduced support for the customizable Lock Screen and Stage Manager last year, respectively.
Ahead of the debut of Apple Music Classical tomorrow and just a few months before a WWDC that's rumored to be focused on the company's upcoming headset and a relatively small iOS 17 update, 16.4 is comprised of two big additions to iOS and iPadOS (new emoji and push notifications for web apps on the Home Screen) alongside a variety of smaller, but notable improvements such as some new Shortcuts actions, Mastodon link previews in iMessage, some tweaks to Podcasts and Music, and more.
Let's take a look.
21 New Emoji
Ever since our usual guessing game on the Connected podcast, I haven't been able to stop thinking about the ginger and goose emoji in iOS 16.4. Those are just two of the new emoji introduced with today's update, with other notable additions including the likes of moose, new colored hearts, and a donkey.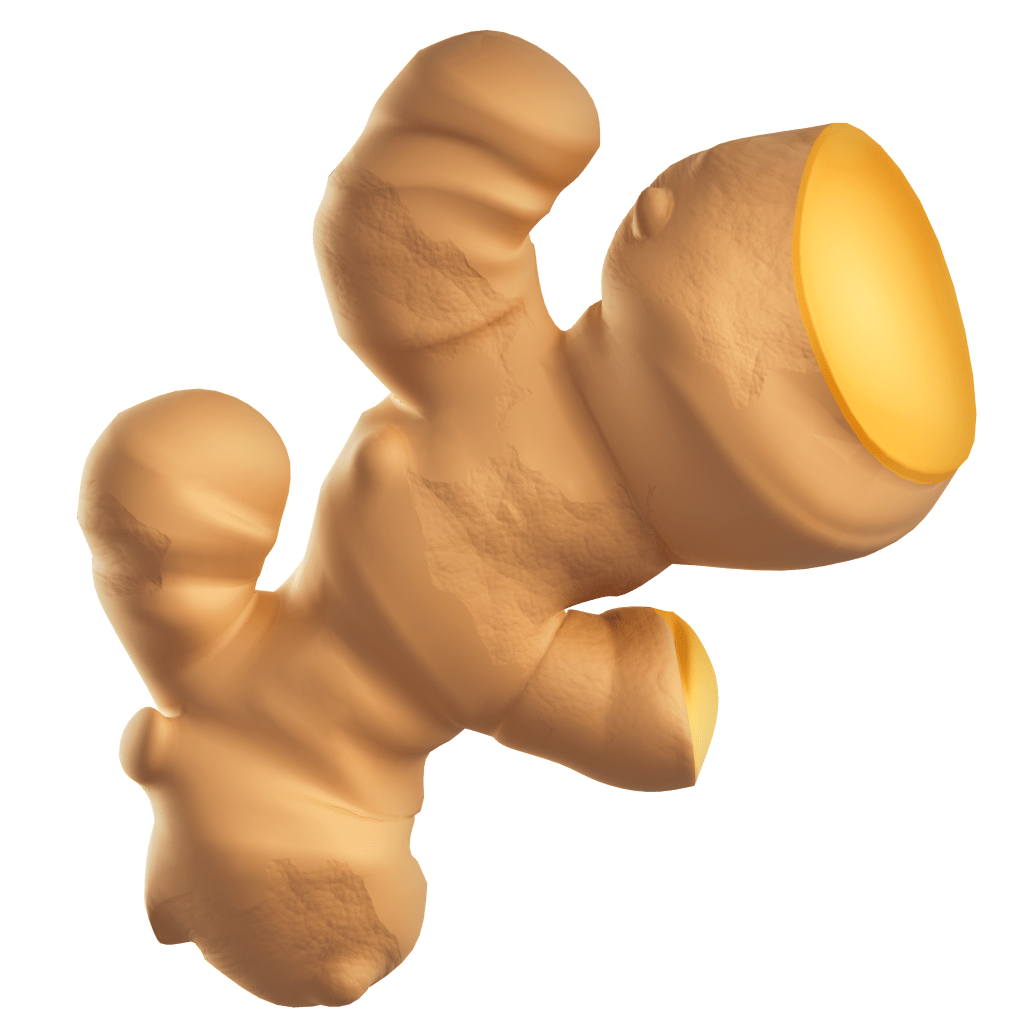 While I'm partial to the goose, I'm also happy about the addition of a pink heart (finally) and a proper wireless symbol, which I look forward to using in some of my shortcuts that display emoji in menus and alerts.
Push Notifications for Web Apps on the Home Screen, with Focus Integration
In what is likely part of a pre-emptive strategy ahead of the requirement to allow third-party web browsers on iOS and iPadOS later this year, Apple shipped a series of useful additions for web apps and the existing, WebKit-based alternative browsers in iOS 16.4. Regardless of the underlying motivation behind these additions just a couple of months before WWDC, these are solid enhancements to the web experience for iPhone and iPad, with one particular feature that I plan to explore more in depth later this week for Club MacStories members.
For the first time since the iPhone's introduction in 2007, web apps added to the Home Screen now support push notifications and badges. What I like about Apple's implementation of this feature is that notifications from web apps are managed just like the ones from any other native app: you'll be prompted to grant notification permissions to a web app on the Home Screen with the usual system dialog; you can manage the web app's notification options from Settings; and since these are "regular" push notifications, you can manage them from Notification Center as well as tie them to specific Focus modes.
As far as the notifications themselves go, iOS 16.4 doesn't make any distinction between those originating from a native app compared to those coming from web apps previously saved to the Home Screen. The technology behind all this is the same Web Push API that Apple added to Safari 16.1 in macOS Ventura last year.
I was able to test notifications for web apps added to the Home Screen using Alerty.dev, a web service I recently discovered whose sole purpose is to let users program their own notifications to deliver via an API to all their devices. Alerty is similar to Pushcut and Pushover, but instead of requiring a native app to be installed on the user's device, it can just deliver real-time push notifications via a web browser (on desktop) or a web app on the Home Screen in iOS and iPadOS 16.4. This was a perfect opportunity to sign up for the service and try it out with some of my shortcuts.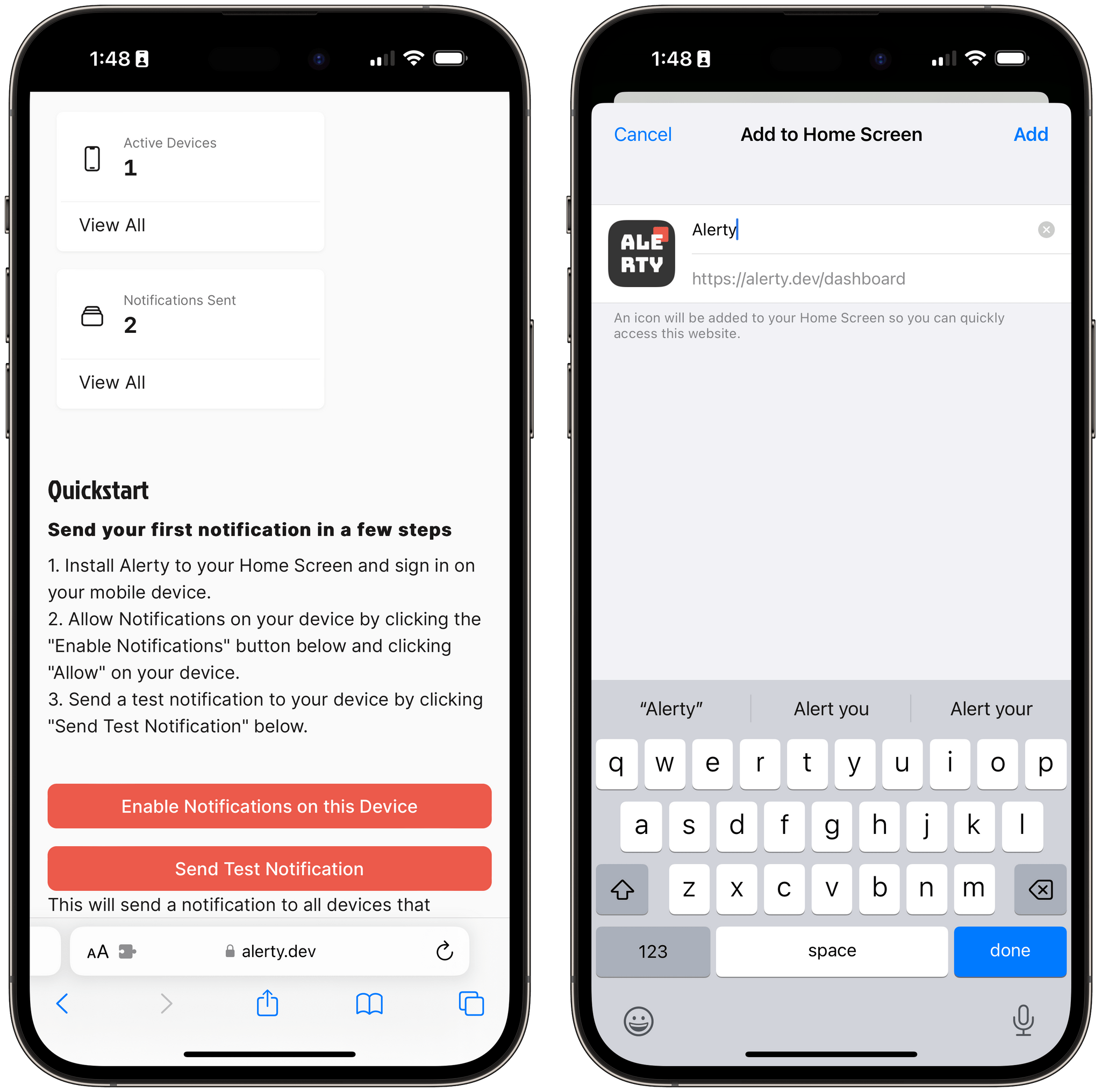 After creating an Alerty account, I saved the web app to my Home Screen from Safari. I opened the web app, I was prompted to log in again (more on this below), and only at that point I was asked to give Alerty permission to display push notifications. This is an important technical detail: while I was in Safari, Alerty couldn't ask me for notification access since iOS and iPadOS do not support notifications in Safari; it was only when I saved Alerty as a web app on the Home Screen that I could.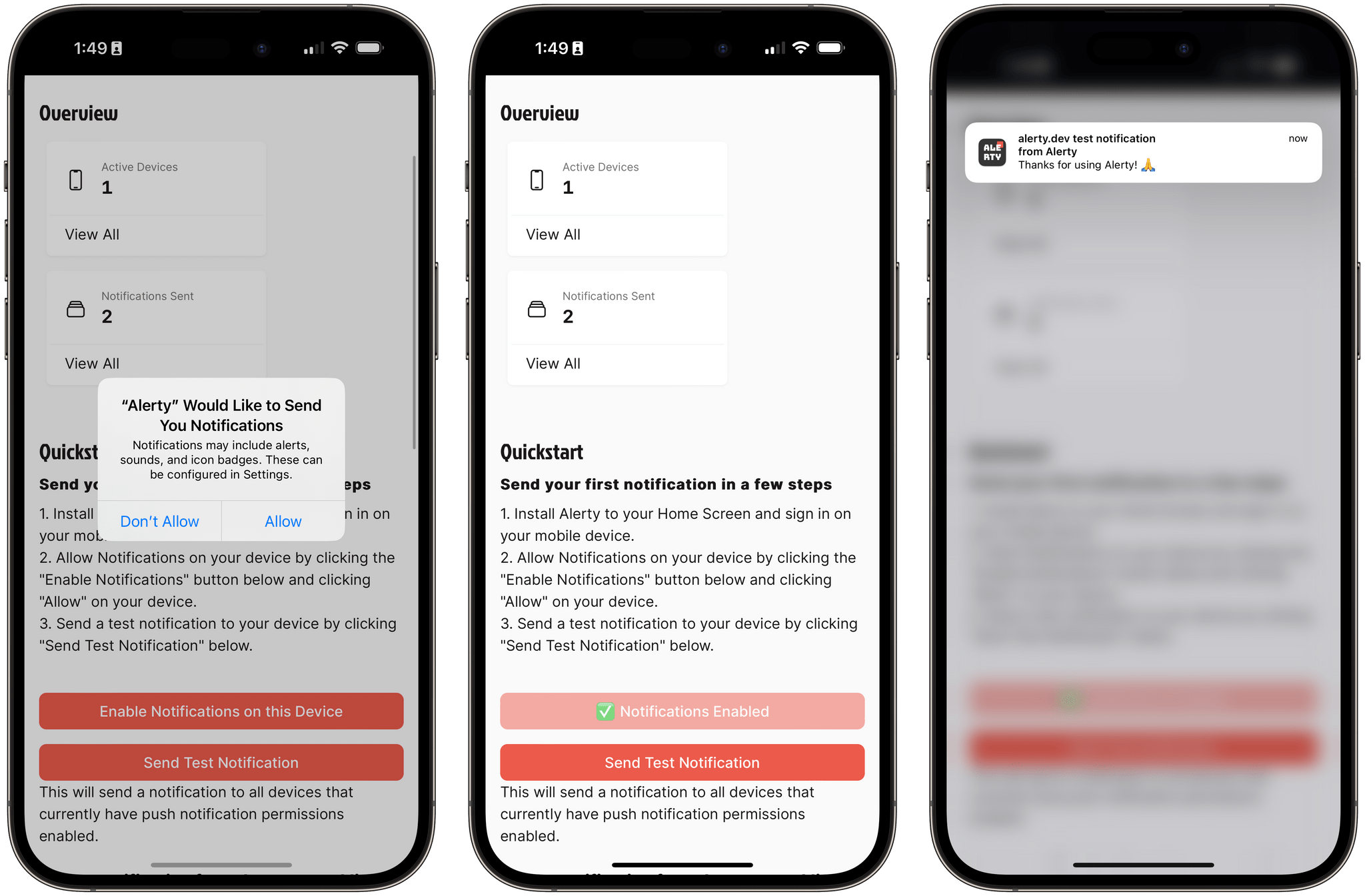 Once I gave Alerty access to notifications, I could see those changes reflected in Settings, and of course I was also able to pick the app for one of my Focus modes. I put together a sample shortcut to send an instant alert via the Alerty API, ran it, and a second later I saw a regular push notification from Alerty appear on both my iPhone and iPad. It looked like another notification from any other app, but it was actually coming from a web app.
Later this week for Club members, I plan to share my shortcut for interacting with the Alerty API as well as some strategies for integrating this service with HomeKit and other types of automation.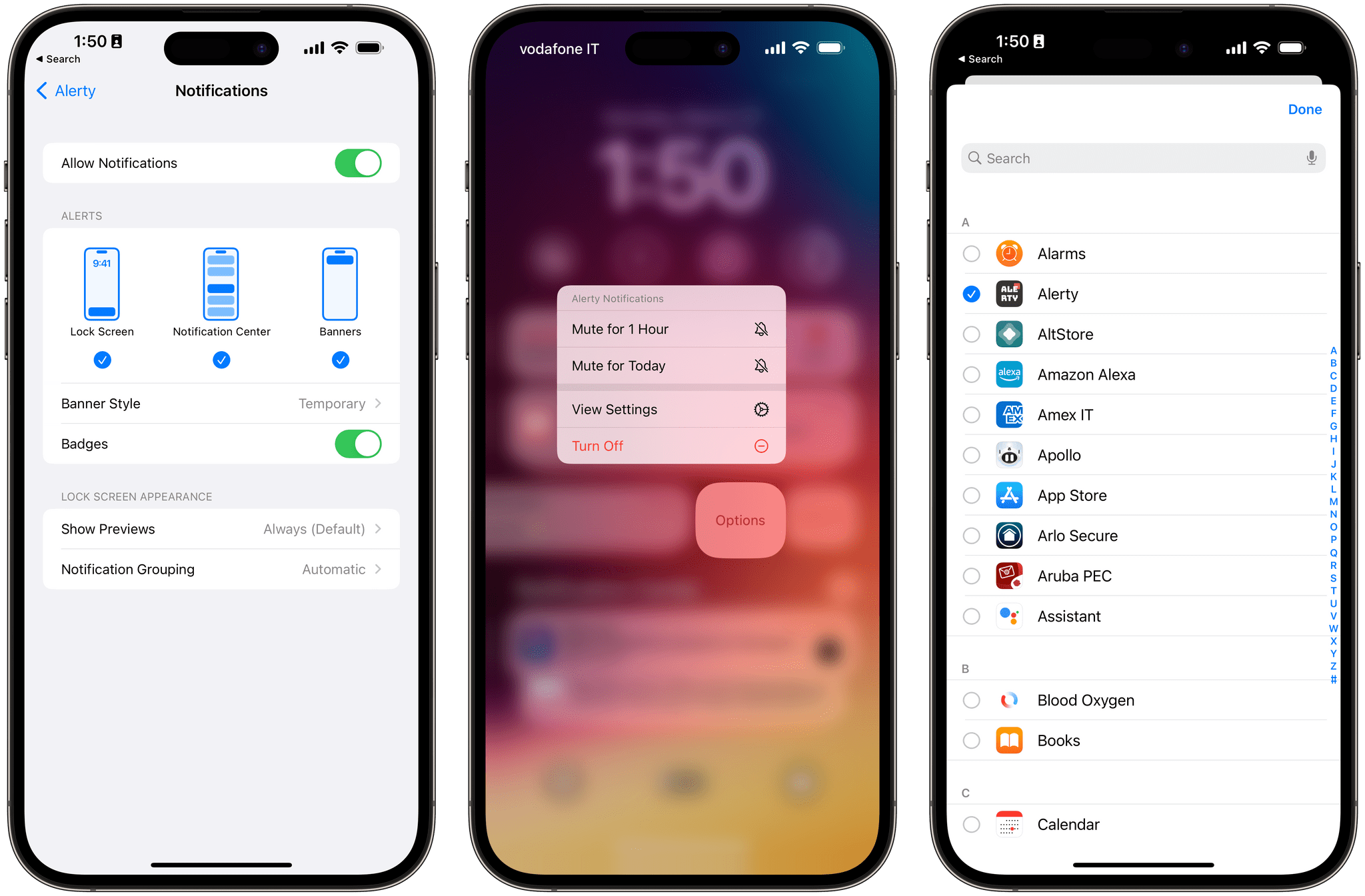 Notifications aren't the only change coming to web apps in iOS and iPadOS 16.4. Also for the first time, third-party web browsers can add web apps to the Home Screen, which will reopen them directly in the browser that created them when tapped. As you can see in the example below, I was able to add MacStories to the Home Screen as a Microsoft Edge bookmark.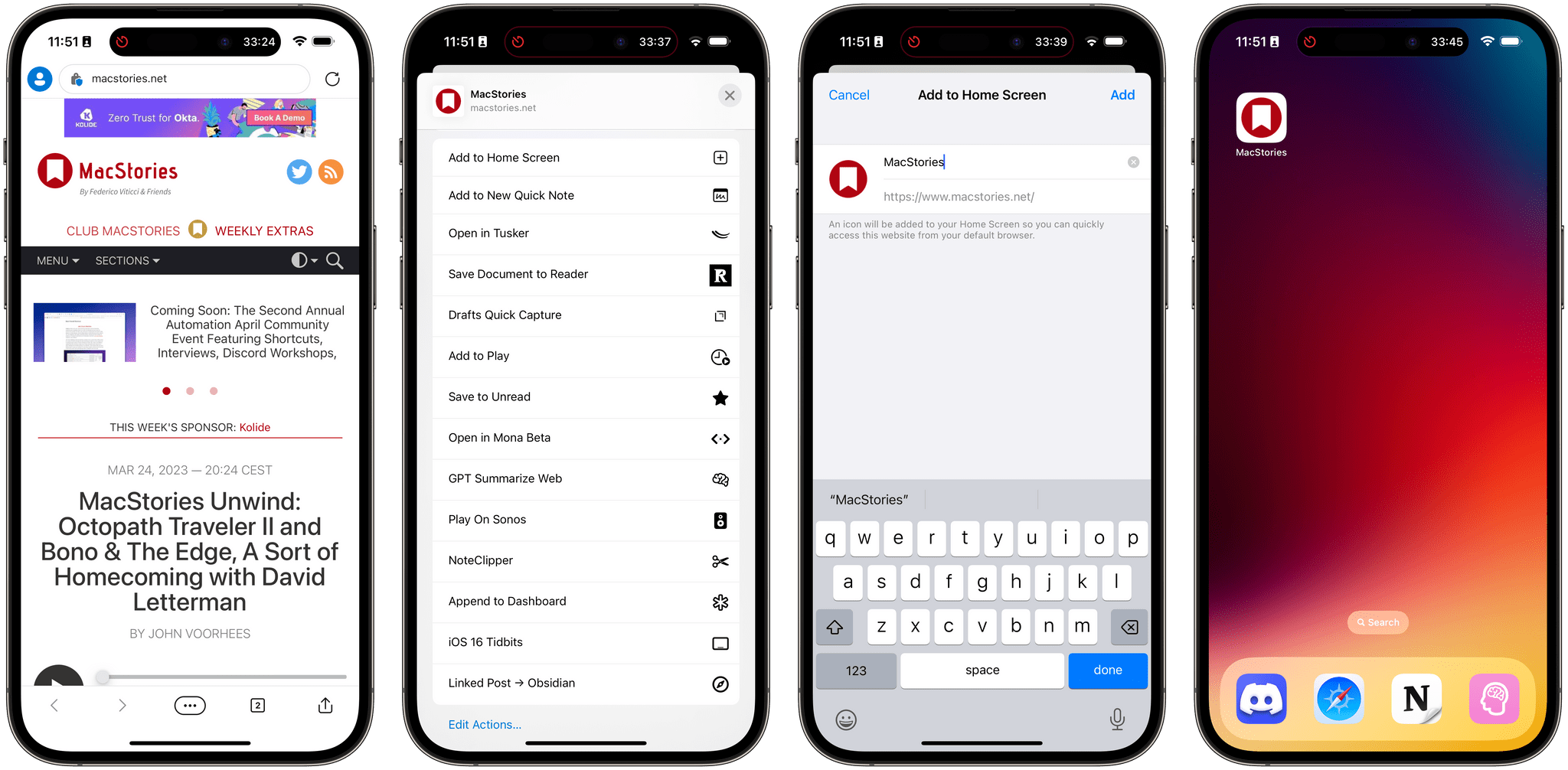 While it's good to see Apple progressively give more and more functionalities and system integrations to third-party browsers, their usefulness is still largely impacted by the fact these browsers are reskins of the Safari web engine. If you delete the browser that created one of these web apps on the Home Screen, then try to reopen the web app, it'll fall back to Safari instead.
One of the highly anticipated changes of iOS 17 is the possibility of Apple having to relax its stance on disallowing alternative browser engines on iOS, and third-party browser makers are getting ready for that potential future. Once that happens, I'm sure that the ability to add full-on PWAs to the Home Screen will prove more useful than creating a saved boomark for a glorified Safari shell. We'll see.
The last thing I'll point out about web apps on the Home Screen is that users can now add multiple instances of each and rename them, which makes sense in the context of multiple Focus modes and creating different versions of the same web app, perhaps logged into different accounts. While I haven't found a use case for this feature myself, I think it's the right approach.
New Shortcuts Actions and Focus Filters
Continuing the trend from last year, there are some new actions in Shortcuts for iOS and iPadOS 16.4. Unfortunately, rather than moving the app forward in meaningful ways for power users, these actions mostly revolve around exposing app settings and various toggles to Shortcuts. I'm not saying these are not welcome additions, because they are; I'm only arguing that Shortcuts hasn't been substantially improved for its most loyal and dedicated users in a while now.
In any case, the new actions in Shortcuts are:
Auto-Answer Calls
Intercom (requires a HomePod; cannot be run on a Mac)
Lock Screen
Set AirDrop Receiving
Set Always-On Display
Set Announce Notifications
Set Night Shift
Set Stage Manager
Set True Tone
Set VPN
Shut Down (includes option for Restart)
Silence Unkown Callers
Like I said, I'm a bit disappointed that the new actions added to Shortcuts in the past year mostly involve the ability to control on/off settings with no deeper controls. These are nice actions to have, but I was hoping for more controls made available to advanced users, especially on iPad.
Case in point: the Stage Manager action in Shortcuts only allows you to either turn Stage Manager on or off with two toggles for choosing whether you want to see the dock and recent apps or not. These are the same settings you can find in Control Center for Stage Manager. As I argued last year, if Apple cared at all about making Stage Manager more palatable for power users, one of the (many) things they should do is bring support for the Mac's 'Find Windows' and 'Resize Windows' Shortcuts actions to iPadOS. Instead, while Mac users can leverage Shortcuts to fine-tune their workspaces with two excellent Shortcuts actions, in iPadOS land all we can do with Shortcuts is turning Stage Manager on or off.
There is one great change I want to point out in Shortcuts for iOS 16.4, however: the Ask for Input action now lets you enter multi-line text instead of one line at a time only. As an advanced user of the app, I'm glad I can now – checks notes – enter multi-line text in a dialog.
I'll also note that the 'Set Always-On Display' action is a brand new system Focus Filter in iOS 16.4 now. As I explained last year, Focus Filters are based on the same intent technology that powers Shortcuts actions, which makes it possible for developers to expose the same functionality in both Settings and the Shortcuts app. I've long argued that users should be able to set their Always-On display preferences depending on Focus modes, so I'm happy to see this option be supported in both Shortcuts and Settings now.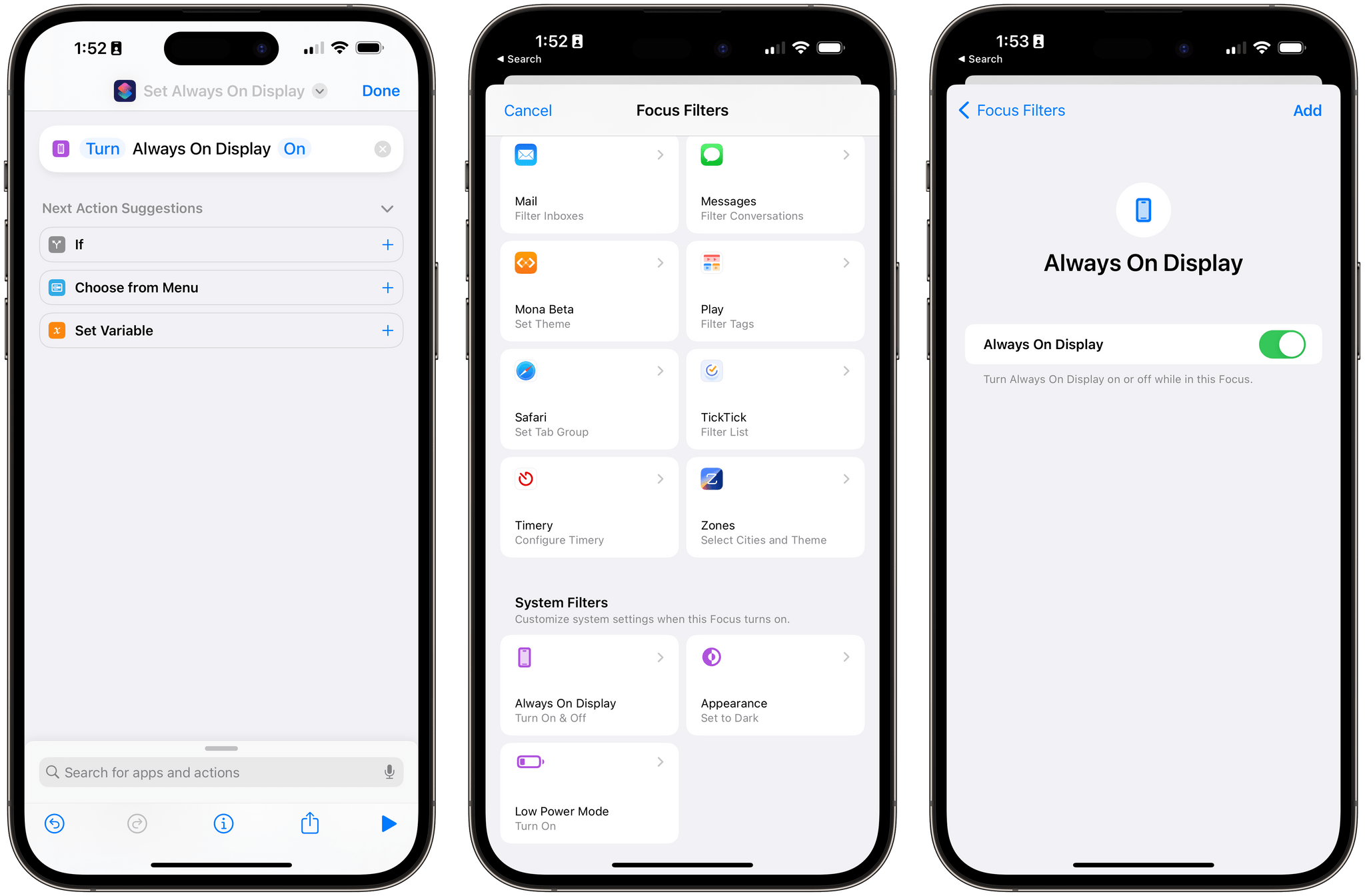 In practical terms, this change means you can now disable the Always-On display when you're at work, or if you're out and having dinner with friends, or at the movie theater. Whatever your use case may be, this is a good option to have and it can be accessed both from Focus in Control Center as well as with Shortcuts automations.
Other Changes in iOS 16.4
Here is a list of all the other changes in iOS and iPadOS 16.4 worth mentioning.
The page-turn animation is back in the Books app. In a flip-flop that would make Stephen Hackett proud, the page-turn animation – which had been previously removed in iOS 16 – is returning in iOS 16.4. The first time you'll open the Books app in 16.4, you'll see an alert inside the reader view that tells you about the new options you can find in Books' somewhat-hidden Themes & Options menu. One of the new options is 'Curl' for page turn, which restores Books' glorious, real-time 3D effect for turning pages.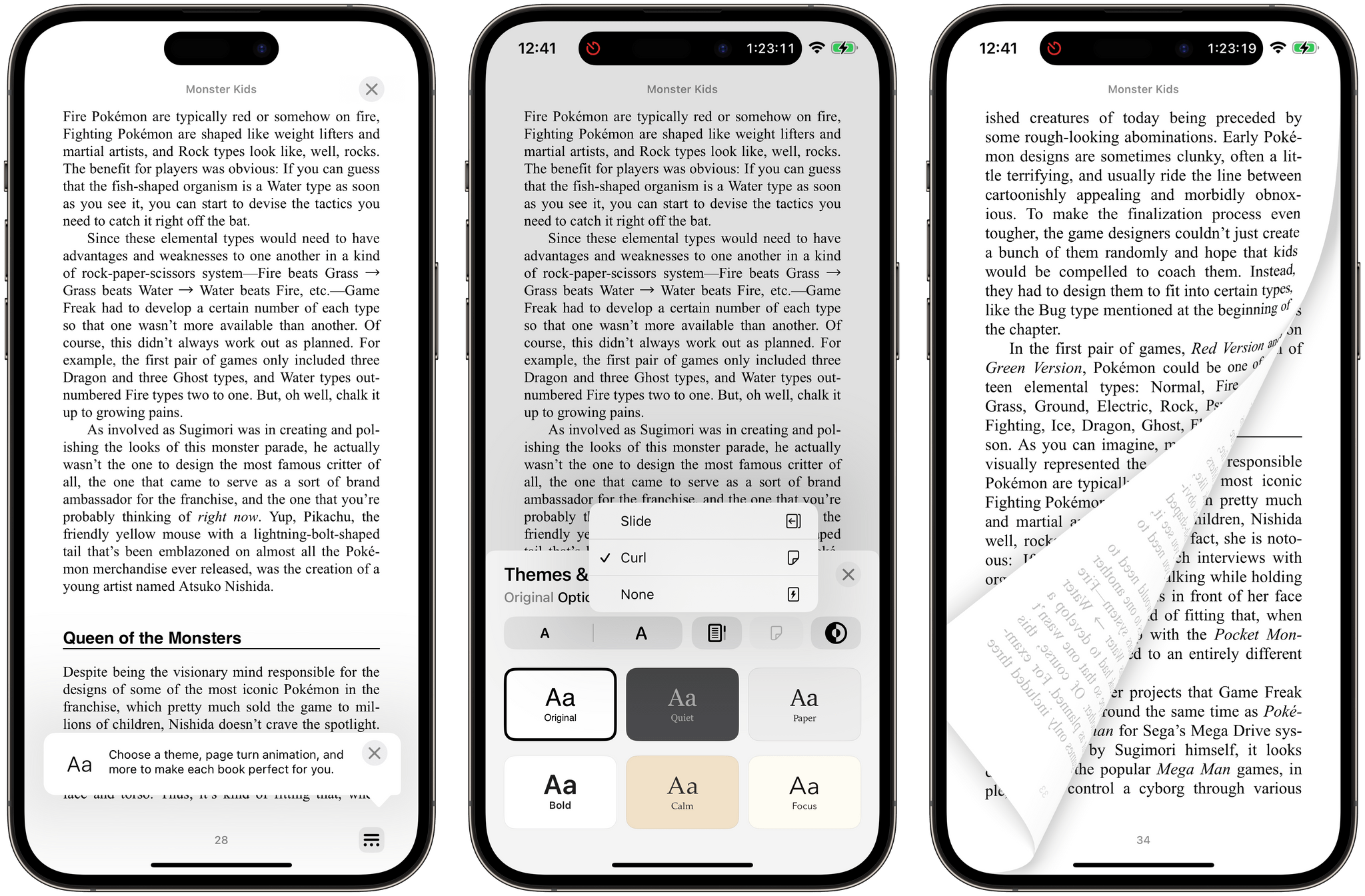 As someone who thought the removal of the page-turn animation was a mistake, I'm very happy to see this feature return. Props to whoever inside Apple convinced their manager that this feature was worth restoring.
The Home Screen wallpaper is no longer blurred in Stage Manager. Of all the improvements and features that Stage Manager for iPadOS potentially needs, Apple chose to ship one in iPadOS 16.4: when you're using Stage Manager, your Home Screen wallpaper is no longer blurred behind. That's it, that's the feature. Let's move on.
There are Mastodon link previews in Messages, Mail, and Notes. Ever since I decided to embrace Mastodon and leave Twitter behind months ago, I've missed the ability to easily share and preview links to posts on iMessage. That's changing with iOS 16.4, which comes with native support for Mastodon link previews inside the Messages app as well as Notes and Mail.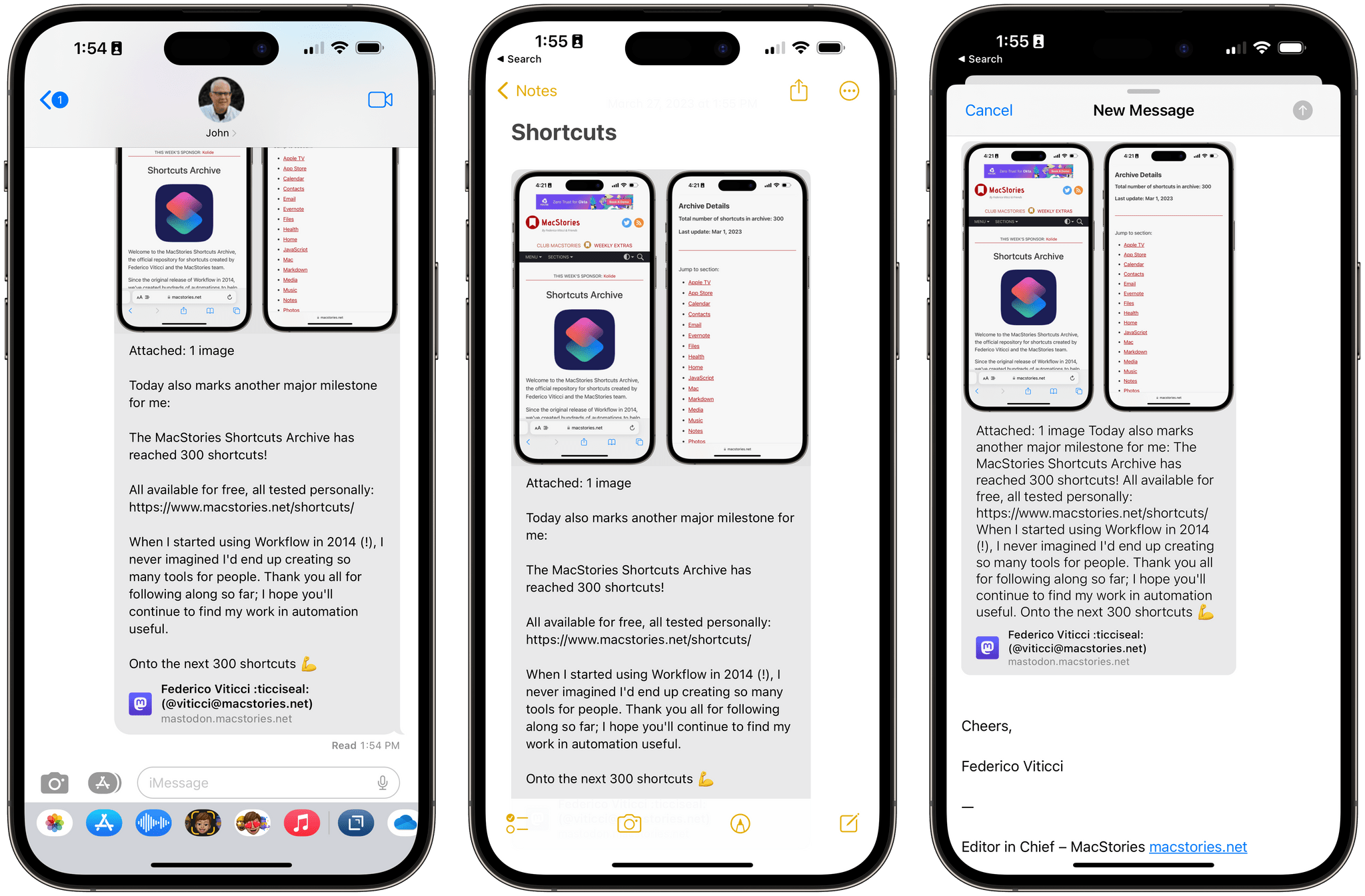 In iMessage, Mastodon links will be automatically converted to a rich snippet with support for images and video attachments when sent in a conversation. They look just like Twitter rich links, but a) they have a gray background and b) thanks to the superior Mastodon API, these rich links tell you how many media attachments are included in a post. In Notes and Mail, you can get Mastodon rich links by saving them via the Notes share sheet extension or pasting them in the message composer and using the new link conversion option of iOS 16, respectively.
It's great to see Apple ship support for Mastodon previews so quickly, and I'm glad I no longer have to take screenshots of posts if I want to share them easily with my friends on iMessage.
Interface tweaks for Apple Music and Podcasts. In iOS 16.4, Apple brought a series of small, and relatively unimportant, changes to the Music app.
Your profile picture (which you can use to open your Apple Music profile) is now displayed at the top of the Library page too; artwork in the Playlists page is smaller, making for a denser view of your playlists; there is a new and less obtrusive design for in-app alerts such as songs added to the library or queued in your Up Next. The latter is the most interesting addition in my opinion: these are new compact "bubbles" that are temporarily displayed at the bottom of the screen rather than in the middle of it. I wonder if Apple will make this style of alert1 an official API for developers in the future.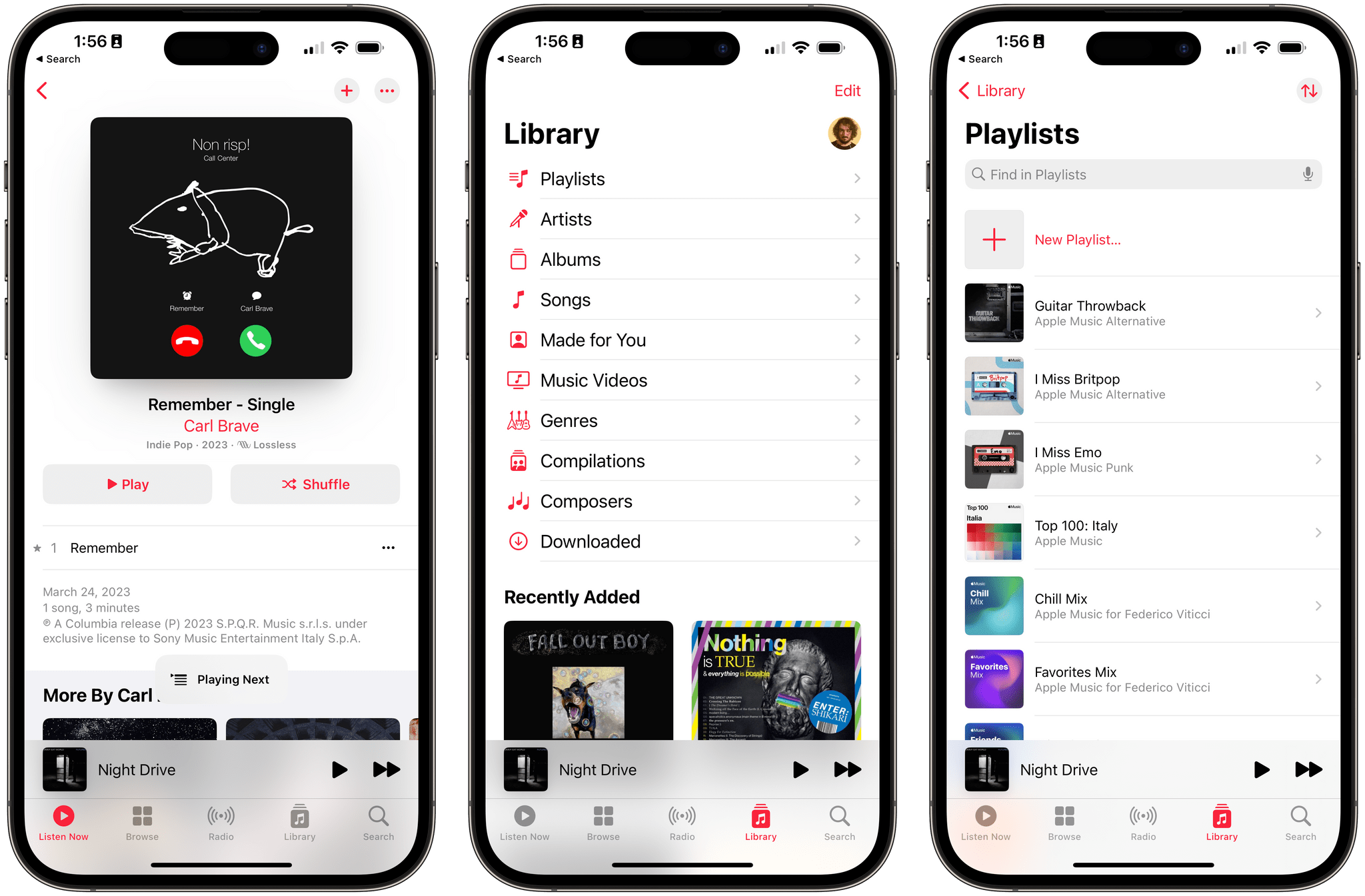 Changes to the Podcasts app are more substantial and useful than the ones seen in Music. Channels, such as the MacStories one in Apple Podcasts, will now appear in Library tab if you're subscribed to them; when you open a channel, you'll see all the shows from it that you're already following at the top of the page. Additionally, the Up Next queue in the app now includes episodes saved to the library as well as episodes played from shows you're not following (a nice feature that's been available in third-party podcast apps for a while).
I continue to be intrigued by Apple's Podcasts app, particularly because of its clean design, integration with the Apple Watch, and performance in refreshing podcast feeds. However, until Apple adds the equivalent of a 'trim silence' feature to save me some time when listening to podcasts, I can't switch to it as my podcast player.
Voice Isolation for cellular phone calls. Following in the footsteps of FaceTime and VoIP apps, you can now enable Voice Isolation for cellular phone calls in iOS 16.4. This audio effect, which you can activate from Control Center, will prioritize your voice and block ambient noise around you.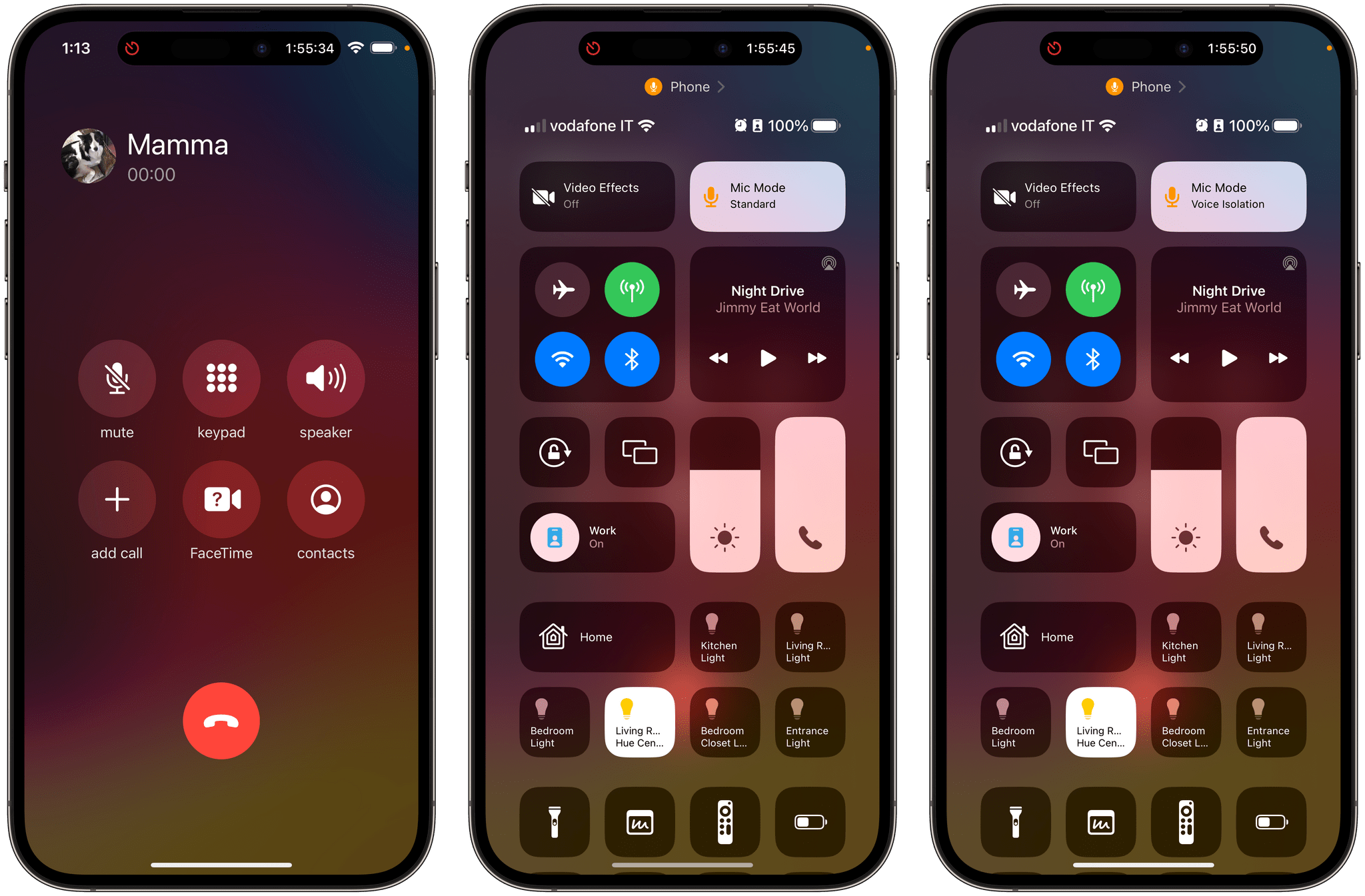 I tested this feature with my mom, who told me I "sounded good but metallic". Your mileage may vary.
Find duplicate photos and videos in a shared photo library. Lastly, if you're a user of iCloud shared photo libraries, you'll be happy to know the new duplicate detection and removal feature of iOS' Photos app now works for that type of library as well.
iOS and iPadOS 16.4
iOS and iPadOS 16.4 aren't huge updates, yet most people will likely rush to install them because of the new emoji included in these releases. The nerdier among us will probably do the same to get native Mastodon link previews in iMessage, which are very nicely done. I continue to be let down by the poor execution and limitations of Stage Manager, and, at this point, I'm fully prepared to see iPadOS 17 go by without any major changes to iPadOS multitasking, which would be concerning.
iOS and iPadOS 16.4 are likely the last major updates before Apple's attention turns to WWDC, the headset, and whatever may be in store for iOS 17. Worst case scenario, even if we won't be getting any more iOS 16 updates and if iOS 17 turns out to be a smaller release this year, know this:
We'll always have the goose emoji.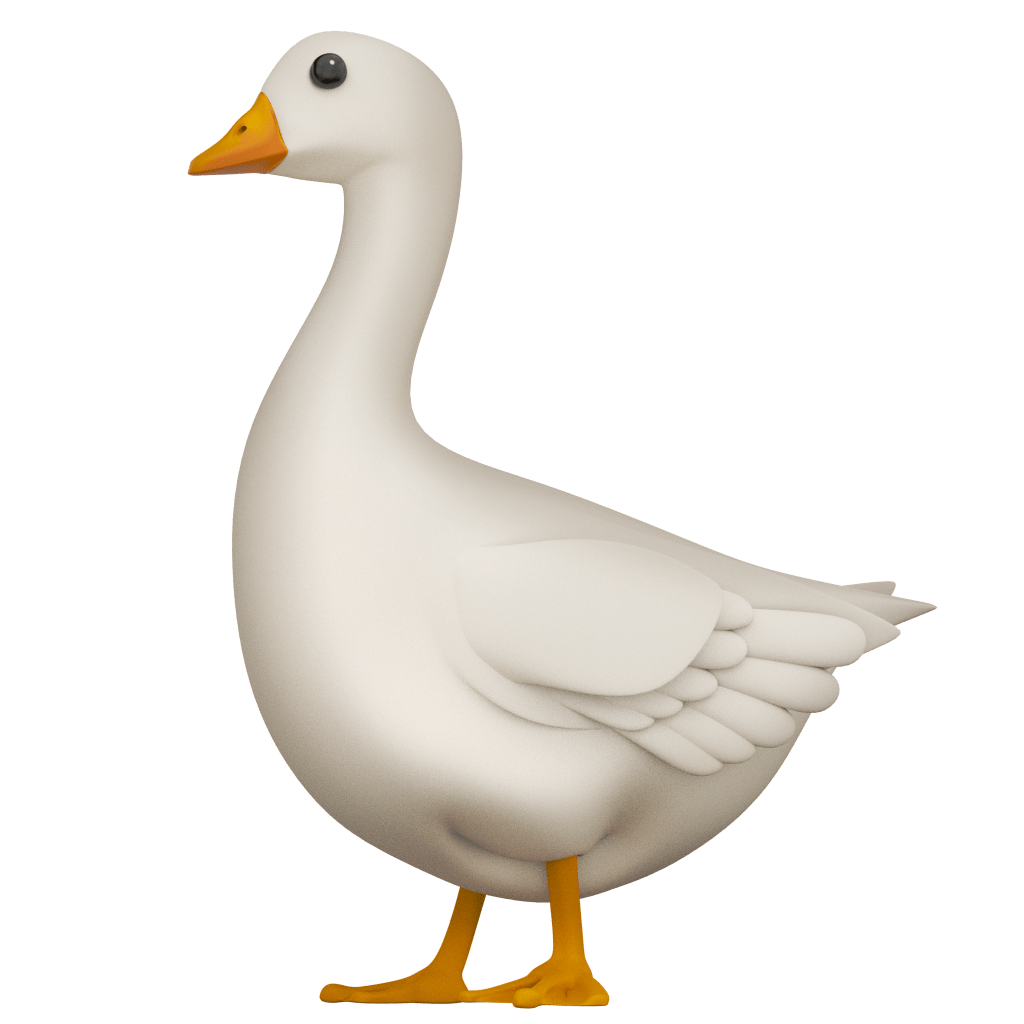 ---
Apple has been experimenting with this pill-shaped alert design for a few years at this point. ↩︎
---
Support MacStories and Unlock Extras
Founded in 2015, Club MacStories has delivered exclusive content every week for over six years.
In that time, members have enjoyed nearly 400 weekly and monthly newsletters packed with more of your favorite MacStories writing as well as Club-only podcasts, eBooks, discounts on apps, icons, and services. Join today, and you'll get everything new that we publish every week, plus access to our entire archive of back issues and downloadable perks.
The Club expanded in 2021 with Club MacStories+ and Club Premier. Club MacStories+ members enjoy even more exclusive stories, a vibrant Discord community, a rotating roster of app discounts, and more. And, with Club Premier, you get everything we offer at every Club level plus an extended, ad-free version of our podcast AppStories that is delivered early each week in high-bitrate audio.