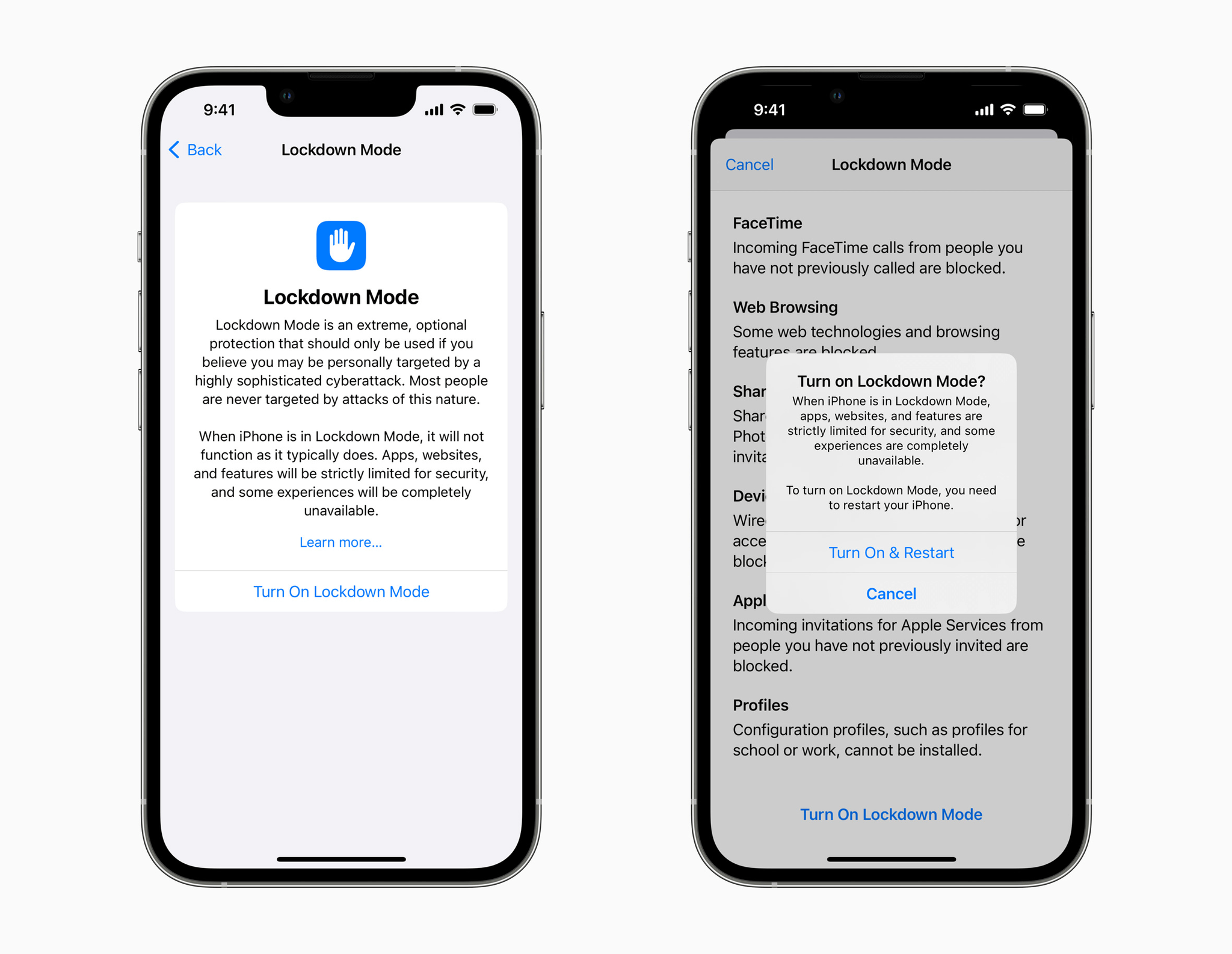 Apple has announced a new Lockdown Mode for iOS, iPadOS, and macOS designed to protect people who may be personally targeted by sophisticated digital threats. In a press release, Apple says:
Lockdown Mode — the first major capability of its kind, coming this fall with iOS 16, iPadOS 16, and macOS Ventura — is an extreme, optional protection for the very small number of users who face grave, targeted threats to their digital security.
Lockdown mode is designed to limit certain features to reduce the attack surface available to spyware. The company said that:
At launch, Lockdown Mode includes the following protections:

Messages: Most message attachment types other than images are blocked. Some features, like link previews, are disabled.
Web browsing: Certain complex web technologies, like just-in-time (JIT) JavaScript compilation, are disabled unless the user excludes a trusted site from Lockdown Mode.
Apple services: Incoming invitations and service requests, including FaceTime calls, are blocked if the user has not previously sent the initiator a call or request.
Wired connections with a computer or accessory are blocked when iPhone is locked.
Configuration profiles cannot be installed, and the device cannot enroll into mobile device management (MDM), while Lockdown Mode is turned on.
Apple is also doubling its bounty payouts for qualifying findings in Lockdown mode up to a maximum of $2 million.
The company added that its grant of $10 million, plus any damages awarded in its lawsuit against the NSO Group:
will be made to the Dignity and Justice Fund established and advised by the Ford Foundation — a private foundation dedicated to advancing equity worldwide — and designed to pool philanthropic resources to advance social justice globally.
The Dignity and Justice Fund will begin making grants from the funds beginning late this year or in early 2023.
Lockdown Mode is clearly intended for high-profile individuals who feel they may be at risk of a targeted attack. Although the feature will be available to anyone to turn on, doing so will significantly limit the features of the iPhone, iPad, and Mac in ways that most people are unlikely to want to do.
---
Support MacStories and Unlock Extras
Founded in 2015, Club MacStories has delivered exclusive content every week for over six years.
In that time, members have enjoyed nearly 400 weekly and monthly newsletters packed with more of your favorite MacStories writing as well as Club-only podcasts, eBooks, discounts on apps, icons, and services. Join today, and you'll get everything new that we publish every week, plus access to our entire archive of back issues and downloadable perks.
The Club expanded in 2021 with Club MacStories+ and Club Premier. Club MacStories+ members enjoy even more exclusive stories, a vibrant Discord community, a rotating roster of app discounts, and more. And, with Club Premier, you get everything we offer at every Club level plus an extended, ad-free version of our podcast AppStories that is delivered early each week in high-bitrate audio.